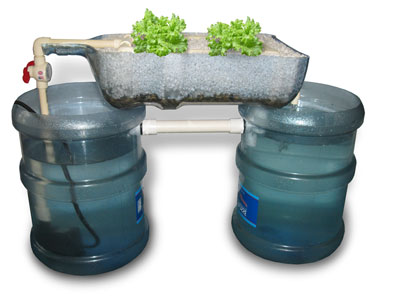 Teach the fundamentals of a fast growing agriculture opportunity with this simple, compact and efficient design. This complete aquaponics system is small enough to fit on a counter or table yet provides a lot of value.
The top 1⁄2 container is used both as a filtration system and a plant growbed. The supplied perlite is a free flowing medium that works well for most plants.
The two connected containers hold almost 10 gallons of water. Both containers can hold fish giving you the flexibility to separate sizes or species.
The system is self contained and needs no direct plumbing connections. The only electrical needs are for a small water pump used to recirculate the water. A heater can also be used for warm water fish. Both can be run from a standard 120 volt outlet.
Complete 2-1⁄2 CounterTop Aquaponics System is just...
$374.20
This system includes everything you need, containers, pump, plumbing, and perlite for the growbed.